The
Flying Fox

Experience

If you are looking for an eco tourism experience with a difference, look no further than Forest Flying! Based in the beautiful Finch Hatton Gorge near Mackay, our tours give locals and tourists alike the chance to see the amazing natural beauty of the area from a whole new perspective.

Our Forest Flying Tour includes a guided rainforest walk, safety demonstration and an exhilarating yet serene ride on our flying fox. No special level of fitness is required! For more information and bookings, please call or email us today.
Price
The Forest Flying Tour costs $90, per person payable on booking.
Times & Duration
The Forest Flying Tour typically lasts between one and one and a half hours.
Tour Times are 10:30AM and 1PM daily, weather permitting. Additional times are available during the school holidays.
Booking is essential.
Inclusions
The fully guided session and tour includes:
Introduction to Forest Flying (essential safety points and practice cable).
Guided forest walk with an informative talk on rainforest plants and bush tucker.
A ride on the flying fox through the rainforest canopy.
Who Can Take Part?
The minimum weight to use the flying fox is 30 kilograms and the maximum weight is 120 kilograms.
Children under 18 years old must be accompanied by an adult. Recommended minimum age 10 years.
No special fitness required, but Forest Flying is not suitable for infants.
If you can do an average bush walk you can do Forest Flying!
Please inform the instructor of any illness or disability that may affect your ability to take part.
What To Bring
Wear what you would for a regular bush walk (shorts, t-shirt, closed in shoes and a hat). Remember that red attracts the Ulysses butterfly!
You are most welcome to bring a camera (a camera with a strap is safer than a mobile phone). You may also like to bring a water bottle. All possessions such as cameras, hats, water bottles and eye wear are to be safely secured. Our team can help you with securing any loose items. For safety reasons, long hair must be tied back.
Forest Flying souvenir merchandise is available for purchase (t-shirts and stubby coolers).
Booking Request Form
Bookings via the website must be done at least FIVE days in advance. Wanting to book in sooner? Call us 07 4958 3359.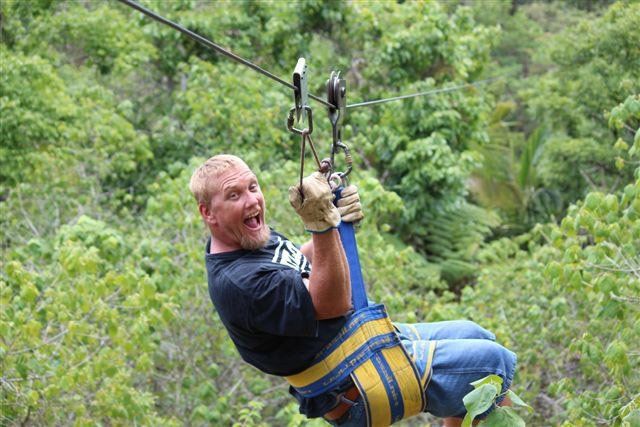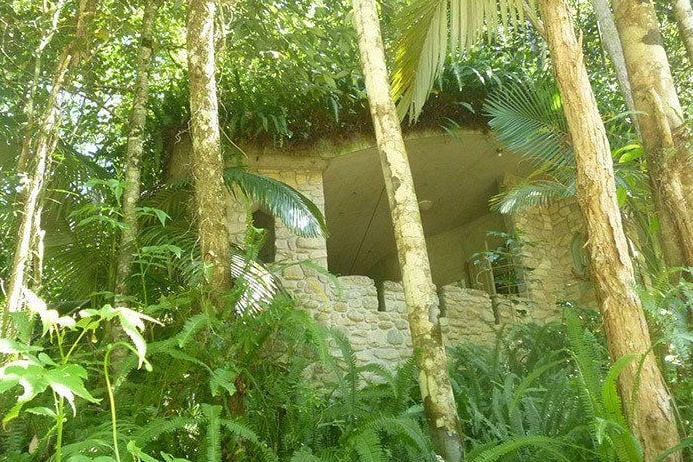 Important Notice
Due to the remoteness of our location we have limited internet access and NO mobile coverage at all!
The best way to contact us, especially if you need a reply about booking for the next day – is via telephone.
07 4958 3359
If you get our message bank please leave a message and we will get back to you as soon as we can (we're probably flying through the forest!).
Booking via website should be done at least FIVE days in advance if possible.
18 Oliver's Road, Finch Hatton QLD 4756
Travelling from Mackay
To find us from Mackay head towards Eungella National Park, but just before Finch Hatton turn right to Finch Hatton Gorge. Follow the signs towards Finch Hatton Gorge. Once you have driven through the first causeway take the first left (Van Houweninge's Road), take another left onto Oliver's Road and then turn right to Forest Flying. Please follow the road up the hill.
Parking
You will find ample parking and a warm welcome from our tour guides at the top!
Google Maps
Please note, there is no phone reception at Forest Flying. If using Google Maps, download the route for offline use.
The Campgrounds
from

$30/night

Check-in Between 2PM & 5PM
(Bookings Essential)

Includes:
3 acres exclusive, private site
Suits 4WD/high clearance vehicles
Suits caravans/trailers under 6m long
No facilities