We know that sometimes you just have to get away from everyone. If you want to get away from the rat race for a while this is ideal. 3 acres to yourself. The property is close to Finch Hatton Gorge and Eungella National Park with waterfalls and walks too.
We take one group at a time so you have the entire site all to yourselves. There is plenty of room for up to 6 vehicles if you want to bring friends or perhaps you are a couple and just want some privacy. Once we have shown you to the site we'll leave you alone to enjoy – no need to see anyone else if you don't want to!
There are no facilities available, no mobile coverage, just your group and mother nature including a beautiful fresh water creek.
The site is not suitable for large caravans (not enough turning space), but is suitable for Camper trailers, camper vans, motor-homes etc equipped with toilet.
Well behaved dogs are very welcome.
Ask us for an early check in or later check out.
Apart from Christmas week and Easter the price is just $30 per night for up to 2 people ($15 per additional person), before fees and taxes.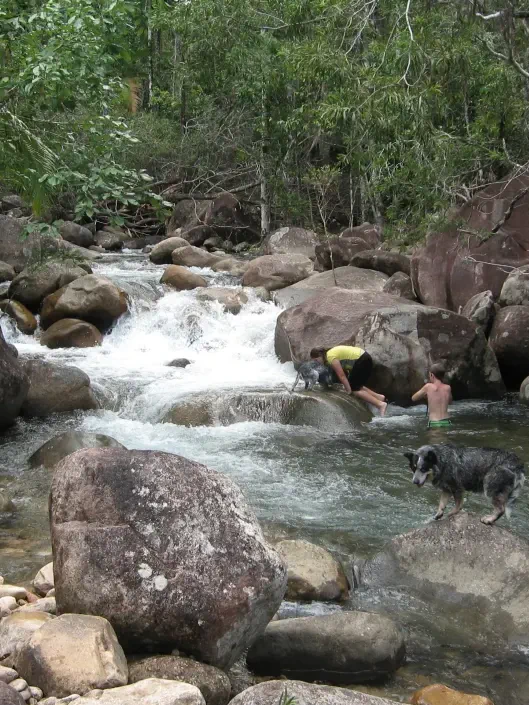 Important Notice
Due to the remoteness of our location we have limited internet access and NO mobile coverage at all!
The best way to contact us, especially if you need a reply about booking for the next day – is via telephone.
07 4958 3359
If you get our message bank please leave a message and we will get back to you as soon as we can (we're probably flying through the forest!).
18 Oliver's Road, Finch Hatton QLD 4756
Travelling from Mackay
To find us from Mackay head towards Eungella National Park, but just before Finch Hatton turn right to Finch Hatton Gorge. Follow the signs towards Finch Hatton Gorge. Once you have driven through the first causeway take the first left (Van Houweninge's Road), take another left onto Oliver's Road and then turn right to Forest Flying. Please follow the road up the hill.
Parking
You will find ample parking and a warm welcome from our tour guides at the top!
Google Maps
Please note, there is no phone reception at Forest Flying. If using Google Maps, download the route for offline use.